In Valentine's Day, the phrase "I love you" is on everyone's lips. "I love you" — three simple words, but with such a deep meaning. With this phrase, almost all people express feelings of love and affection. Love is that nice and deep feeling which every person on the earth experiences sooner or later. Love is a divine feeling, and it helps us to live more intensely every moment, and the life in love becomes more interesting and exciting. When we love, we become better and do it disinterestedly, as then, when we say "I love you".
No doubt that the words "I love you" are words that we can say right from an early age, first to our parents, brothers, sisters, grandparents, and then, becoming older, to our loved ones and children. Every day, billions of people around the world say "I love you" in English, Spanish, French, Russian, Portuguese, Italian or any other language of the world, but feelings remain the same. Below we give the phrase "I love you", translated into many languages. And if your loved one is far away, in another country, and speak the language which is unfamiliar for you, we hope that the information below will be helpful. Surprise your loved one, saying "I love you" in various languages of the world, and we will help you to learn how to write and pronounce this phrase. Moreover, for most languages you have the ability to reproduce the sound recording, to hear how the frase "I love you" sounds in this language.
Language
Audio
Transcription
Origin
IPA
Pronunciation
Notes
Arabic
ʾuḥibbak
أُحِبَّك
When you say "I love you" to a man unofficially
ʾuḥibbuka
أُحِبُّكَ
When you say "I love you" to a man officially
ʾuḥibbuki
أُحِبُّكِ
When you say "I love you" to a woman officially
ʾuḥibbik
أُحِبِّك
When you say "I love you" to a woman unoficially
Bosnian
volim te
Bulgarian
az te obicham
аз те обичам
ez ta obiceam
obíčam te
обичам те
obiceam te
Catalan
t'estimo
təsˈtimu
testimu
Chinese
Wǒ hǎo zhōngyì nǐ
我好鍾意你
Familiar style
Wǒ ài nǐ
我愛你
The expression is used in writing and when addressing to the officials
Croatian
volim te
Czech
Mám tě rád
miluji tě
ˈmɪlʊjɪ cɛ
The expression of romantic feelings
Danish
jeg elsker dig
jai̯ ˈɛlsɡ̊ɐ dai̯
Dutch
Ik hou van je
The romantic and platonic versions
English
I love you
aɪ lʌv juː
Estonian
ma armastan sind
Finnish
mie rakastan siuta
Dialecticism
mä diggaan sua
Slang
mä tykkään susta
Familiar style
rakastan sinua
rɑkɑstɑn sinuɑ
rakastan teitä
Formal style + plural
French
je t'aime
ʒə t‿ɛm
The unofficial version + singular
je vous aime
ʒə vu.z‿ɛm
The formal version + plural
German
ich liebe dich
ɪç ˈliː.bə dɪç
Greek
se agapó
σε αγαπώ
Haitian
mwen renmen ou
Hebrew
aní ohév otkhá
אֲנִי אוֹהֵב אוֹתְךָ
A man says to a man
aní ohév otákh
אֲנִי אוֹהֵב אוֹתָךְ
A man says to a woman
aní ohévet otkhá
אֲנִי אוֹהֵבֵת אוֹתְךָ
A woman says to a man
aní ohévet otákh
אני אוהבת אותך
A woman says to a woman
Hindi
ma͠i tumse pyār kartā
मैं तुमसे प्यार करता
When a man speaks
ma͠i tumse pyār kartī hū̃
मैं तुमसे प्यार करती हूँ
When a woman speaks
Hungarian
szeretlek
ˈsɛrɛtlɛk
Indonesian
aku cinta kamu
Romantic version
aku cinta padamu
Poetic expression
aku sayang kamu
Formal version
Italian
ti amo
ti ˈaːmo
Singular
vi amo
vi ˈaːmo
Plural
Japanese
daisuki
大好き
dai.sɯ.kʲi
Itoshi teru
愛してる
a̠i ɕi̥te̞ɾ̠ɯᵝ
aitoshi teru
Korean
saranghae
사랑해
sʰa̠ɾa̠ŋɦɛ̝
Latvian
es mīlu tevi
Lithuanian
aš myliu tave
ɐʃ ˈmʲiːlʲʊ tɐˈʋʲɛ
myliu tave
ˈmʲiːlʲʊ tɐˈʋʲɛ
Malayan
saya cintakan mu
Maltese
inħobbok
ɪnˈħɔbːɔk
Norwegian
eg elskar deg
Persian
'âšeqetam
عاشقتم
Polish
kocham cię
ˈkɔxam t͡ɕɛ
Portuguese
amo-te
ˈɐ.mu.tɨ
te amo
teː ˈa.moː
Romanian
te iubesc
tejuˈbesk
Russian
ya vas lyublyu
я вас люблю
ˈja vas lʲʊˈblʲu
Plural
ya tebya lyublyu
я тебя люблю
ˈja tʲɪˈbʲa lʲʊˈblʲu
Singular
Serbian
volim te
волим те
ʋɔlim tɛ
Slovak
milujem ťa
ˈmɪlʊjɛm ca
Slovenian
ljubim te
Spanish
te amo
te̞ˈa̠.mo̞
It's often used to say "I love you" to the beloved
te quiero
It's often used to say "I love you" to family members and friends
Swahili
nakupenda
ninakupenda
Swedish
jag älskar dig
jɑː ²ɛlːskar dɛjː
Thai
chǎn rák kun
ฉันรักคุณ
t͡ɕʰän˩˩˦ räk̚˦˥ kʰun˧
A woman addresses to a man
pǒm rák kun
ผมรักคุณ
pʰom˩˩˦ räk̚˦˥ kʰun˧
A man addresses to a woman
Turkish
seni seviyorum
sɛni sɛvijɔɾʊm
Ukrainian
ya tebe kokhayu
я тебе кохаю
Urdu
mujhe tumse mohabbat hai
مجھے تمسو محبت ہے
Vietnamese
anh yêu em
ʔɐjŋ̟˧˧ ʔiɜw˧˧ ʔɛm˧˧
The declaration of love, made to a woman by a man
em yêu anh
ʔɛm˧˧ ʔiɜw˧˧ ʔɐjŋ̟˧˧
The declaration of love, made to a man by a woman.
Welch
Rwy'n dy garu di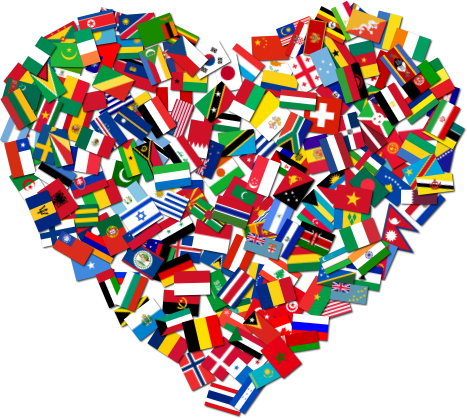 Don't hesitate to tell each other "I love you" if you really feel it, without an occasion, without waiting for special days, and you will see how wonderful the life is. Appreciate your parents while they are close to you, and tell them whenever possible: "I love you". Encourage young children, be nice to them, don't hesitate to say "I love you", thus, they will grow in a pleasant atmosphere and will be open for communication with you, the parents. If you have grandparents, call them at least sometimes, and tell them simply, "I love you, Grandma", or "I love you, Grandpa"; it will be so nice both for them and for you to know that you have pleased them at least a bit.
Love life, love people who make your life more beautiful, and tell them a sincere "I love you"... in the greatest possible number of languages.